Everything in the universe is made up of energy.
Your body, the chair you are sitting on, and the air you are breathing are all forms of energy.  Science has long been studying physical energy such as those in the diagram below, and yet there is another energy that isn't as well understood… our own body's energy and that of those around us. Your acumen with this energy is your Energy Intelligence.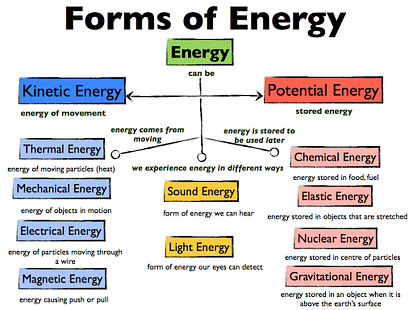 What is it that you are picking up on when you meet someone and you instantly feel repelled, or attracted?  What are you noticing when you walk into a meeting and the air is thick and you know there is a conflict and strong emotions present. And what is it that you are gauging when you know that you feel drained of energy? When you're feeling "high energy" what is that?  What is it that you are perceiving in all these cases?
"If you want to find the secrets of the universe, think in terms of energy, frequency and vibration."
– Nikola Tesla
This is energy of a different kind. It is a metaphysical concept that some call a vibe, chi, an aura, or an energetic field.  We call it the Human Energy System and it includes the energy body of each person and the energy of the inter-relationships between people and groups of people.  This energy system has a huge impact on our health and well-being, as well as our ability to function day to day, so it is in our best interest to learn how to tend it well.
There are ways to recharge your energy system when you feel depleted. There are ways to strengthen your energy system so it is less affected by others. And there are ways to utilize your energy system to provide you with information, healing or general well-being. There are also ways to transmit your energy intentionally to others. The first step is to begin noticing your own energetics, and knowing when what you're sensing is yours or someone else's energy. You'll soon be on your way to honing your own energy intelligence.
A few years ago, when I was recovering from burnout, I had completely retreated and minimized my contact with people because I was so energetically depleted and I needed to be alone to recharge.  Each outing into the world of people required a much longer time period alone to recuperate my energy system. With the help of some gifted healers and coaches, I was able to stop the energy leaks in my system, and learn how to allow my system to receive energy from others so that I could create a balance of energy out and energy in.  As an empath, I had unconsciously shut down the receiving flow in order to protect myself from unwanted energy from others. I had been operating with a one-way flow of energy with other people, always flowing out to them.
Our energy system is simultaneously receiving and radiating energetic information. And our ability to allow universal energy to flow through our human energy system is key to harnessing our power as co-creative beings.  Physicists will tell you that all matter is energy, vibrating at different frequencies. The basic element of reality is consciousness manifested into energy.
What are you using your energy to create right now?
There is a new intelligence awaiting your discovery… energy intelligence.
Let me know what this article brings up for you… Questions? Curiosities? Skepticism?  I'd love to hear your thoughts.
Until next time,
Sue